16 Sep 2022
What you need to consider for migrating from Magento 1 to Magento 2!
A better alternative is here for Magento users. If you are still using Magento 1, consider migrating to Magento 2 for several reasons that could give your customers a positive shift in the way they do business. This change has been going on from 2018 and there was enough time for all to consider the benefits of the change.
We give you few critical points to ponder before you tread upon the migration to do it hassle free. Synamen has already discussed about why Magento 1 users must migrate to 2. Now, we would like to list the pointers that help you understand what to do and how to do.
Meticulously plan for the migration as it is a herculean task. One step at a time will take you there seamlessly. Magento has published a flowchart for reference.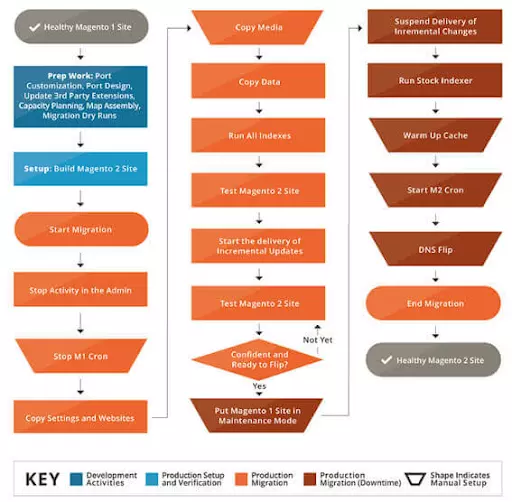 Flowchart of Migration from Magento

The flowchart comes in handy to schedule the necessary steps to be followed. Now, let us look at the basic and critical things to be looked upon before commencing the process.
First and foremost, list out the extensions used in the current platform. You need to validate on the need for the same extensions in Magento 2 as well. if yes, you must find compatible ones for the new platform.
Like extensions, themes also pose a bit of challenge. You must recreate the same design in the new platform. Optionally, if you wish to revamp the store front, contact the Magento 2 developers for more themes and extensions.
Install and configure Magento 2 platform in a similar setup of Magento 1 store.
Data migration is yet another critical aspect and needs to be handled with care. You can use a tool that Magento offers, which converts existing data to fit into the new platform. You can move those data not touched by the tool manually.
You must manually copy the media files from Magento 1 storage to Magento 2 storage.
The most important is how you deal with incremental data. Customers keep shopping on the website, and this must be stored in the new platform as well. This needs careful evaluation of changes to customer data or shopping data.
No process is perfect for the first time. It needs lot of evaluation and testing before it starts to perform. But keep working on the errors cropping up and you will find light soon.
Roles and access permissions must be recreated in the new platform.
Do not push the task further, get started immediately to be part of the ecommerce innovations and enhancements. You must steadily move on the change path to keep pace with innovations. If you have not started the process yet, it is time to do so immediately. During the process, you are sure to encounter showstoppers but there are solutions to eliminate them. You just must make yourselves aware of all roadblocks and how to tackle them. Read the guidelines from Magento carefully and follow the steps cautiously to avoid any last-minute chaos..
Tags: magento,
Archive
2022
2019
2018
2017
2013