31 Oct 2022
e-commerce is growing faster than predicted: 10 trends for the coming years
Overview of e-Commerce Growth Trend
Recently, we have been witnessing rapid growth in the e-Commerce business, which has transformed the retail market. The growth peaked during the covid pandemic and continues this trend as consumer mindset moved to online shopping. It is surely not going to be reversed post the pandemic now. Have a look at the statistics below to understand the future growth of e-Commerce.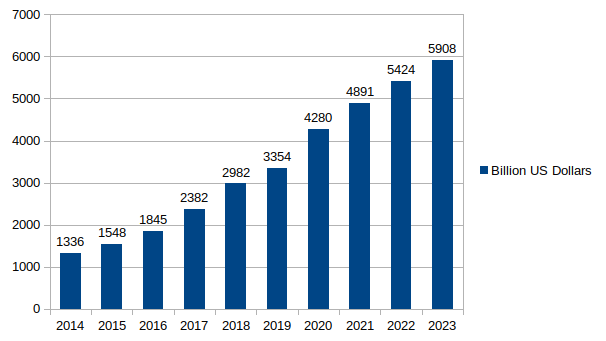 Source - https://www.statista.com/statistics/379046/worldwide-retail-e-commerce-sales/
The e-Commerce business keeps expanding every day, which is amazing and exciting. We have curated few critical points that showcases the trend and insights into the future of the platform. Businesses must revolutionize the e-Commerce platform to go with the trend and cater to changing behavioral patterns of consumers. Transparency, authenticity, and instant availability are the key things that brands need to provide their customers in addition to high social media presence. This is highlighted as consumers spend most of their time in social media and want to witness brands popularity in social media.
Online Hype
More and more brands are going online and giving tough competition to existing brands. Businesses must stand out from the crowd. Acquiring new customers and retaining old existing customer base is certainly a huge task with rising costs. Step up on your paid ads and promotions with unique offers and selling points to gain more visibility. Targeting the right audience and number of audiences is key here. Apart from offers flexible payment option is the next key thing. This requires more investment but is a necessity to stay ahead in the race.
Customer Service and Delivery
There is still a gap between the actual performance of businesses and reality faced by consumers in terms of customer support and delivery. Delivery lead-time is still a persistent agenda in the consumer expectations list. Customer service not falling short of expectations. This calls for businesses to increase costs on customer service and delivery options. Play around well to sustain in the race.
Sustainability
E-Commerce companies are under the scanner for sustainability issues in the Indian and global markets. Indian consumers are prone to sustainability, and they are overly concerned from who they buy. Having a good ESG policy in place sets the stage for a differentiator from the competitors in the consumers' eyes. Customers wish to spend more for sustainable products as the social and environmental awareness is increasing. Consumers look out for speedy delivery in addition to products being sustainable.
New Payment Options
More personalized and newer payment options are on the run attracting more new customers. Along with it comes challenges in terms of cyber security and frauds. Investment cost increases and securing the payment options also comes with a rise in cost. Consumers love to see the uniqueness amongst the pack.
Festival Shopping
Indian consumers are prone to increase their online shopping during festivals. If you look at the top brands shopping sites, there is alarming increase in the online visitors and buyers. Festivals and events thrive to be the key agenda in the e-Commerce arena. Keeping up to the festival needs of consumers is a critical part of revamping your business.
Seasonal Logistics
As festivals and gifting seasons crop up, consumers crowd at online shops. This calls for seamless logistics service. Partner with providers who are equipped for festivity and seasonal orders and can accommodate huge number of orders in a short span and hassle-free delivery.
Appropriate Skills
As the business grows, it is important to recruit the right talent or skilled people to handle the enhanced platform and changing consumer demands.
Mobile Users and Voice Search
Consumers who do shopping in their mobiles are increasingly doing voice searches on products while on the move. Brands must ensure the platform is equipped to cater to voice queries for those consumers who prefer contactless buying patterns. Enhance your platforms to accommodate this new search option to tap into new set of consumers.
Partnering with Market Influencers
Most consumers trust market influencers in their buying spree. Take your business to a greater market with leading influencers to gain more visibility with their existing consumers. This brings in lot more customers to your arena. You must be prepared to invest in such influencer marketing promotions.
Quality is Key
More and more customers want to see product videos and uses to understand their need for it and witness the quality. Videos are great influencers and are a big hit amongst the online buyers now. Equip your e-Commerce platform with advanced video streaming across devices to convey a personalized feel of products to consumers. Quality is grasped more with appealing visuals rather than static pictures.
Conclusion
These are the few cents in the future trend of e-Commerce businesses that we brought to your notice. There is more to come, and we will keep talking about them going forward. This is just the beginning for you to revisit your brand style and show your face in the crowd. Invest more on brand building and performance marketing. Define a diversified marketing strategy to reduce customer acquisition costs. Customers are now looking for brands that align with their purchase values. Their demand for transparency, sustainability, and innovation has become strong. It is important how you showcase your brand value with consistency and the expected quality out there to reach the pinnacle.
Tags: e-commerce,
Archive
2022
2019
2018
2017
2013